I've got a collection of music here and there; some of it has some pop snippets, while others are more soundscapy, or would work well as a soundtrack to movies that I haven't worked on.
Truly Me Club 11/06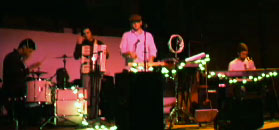 played a show 11/06 with the truly me club at a new bar in portland called the someday lounge, where they've got a streaming live video feed. their website has archive of the show. however, their video mask is a bit lacking - doesn't give you the whole view of what was shot that night (jason, songwriter of truly me, is cropped out), nor does it give you a timeline control, so you have to watch the entire show from start to finish. i know, pickypickypicky. to see the whole thing, here's a link to the streaming video unskinned, as they say in that techy speak. probably will launch your quicktime player, but then you can resize it, move the timeline about (hint: we play at around 2:15), see the entire stage, etc. enjoy . . .
3/7/06
11/3/05
just finished a one-off show with norfolk, opening up for the decemberists.
a week before, we had a fun video shoot (click on photo for bigger pic).
10/18/05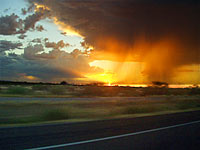 home again. 3k+ miles in one week, longest stretch was last night, getting from san luis obispo back home, 12 plus hour drive . . . thanks to james and courtney for the hospitality in slo, and the rest of you for the putting us up in the three different states we stopped at . . .
10/14/05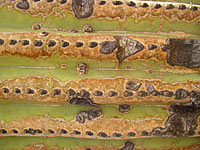 la went off better than expected, as several of rob's friends made their way out on a thursday to catch the early show, first a standup duo followed by a new yorker with attitude singing of bad relationships and whiskey, then us . . . played for one drink ticket and nothing else, as the club had a guarantee for the ny guy, then didn't make enough money to start dolling out the minimal dollars to pay us. similar to what happened last time i played, if i recall correctly . . .. they had four different music shows going on that night at the knitting factory . . . driving to tucson tonight, either a 7 hour or 10 hour drive to get there, depending on traffic, though so far it's been pretty smooth . . . rob's friends we stayed at in la - i had a double take moment of a picture of a couple on their fridge, then i remembered who they were. turns out rob's friends had officiated this couple's wedding, one of whom is a cousin of a friend up in Portland, whom we'd stayed at a few times in san Francisco, making for a smaller world.
california, driving through the desert on 10 east, a big oasis of a casino along with the chain standards clumped about it like tumbleweed. wonder how much different a casino is than a prison, looking at the walls surrounding it and trying to keep all of the occupants inside through any means necessary.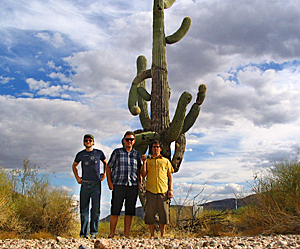 looks like they take all their cars and drive them down a dirt road, then leave them there for the vultures to strip away the tires and the seats, leave the roofs and hood ornaments to slowly rust.
rest stop in the middle of nowhere part 2 (a few miles past the sign that said state prison: do not pick up any hitchhikers): eric's comments on the bathroom's cleanliness: if you washed your hands, they'd be dirtier than if you didn't. rob asked, "did you notice the dead chicken?" . . . The next turnoff down the road: Neighbors Boulevard.
now passing into lightning storm, looking like it's touching down on the road 10 miles ahead. mini thunderstorms on our right, and strips of tires like discarded snake skins on the medium . . .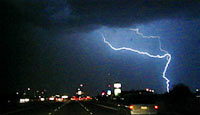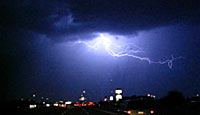 10/12/05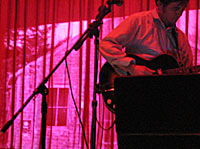 first leg of long trip, going from eugene to san francisco, an eight hour drive in normal conditions, and today is looking pretty good, blue patches alternating with high cotton ball clouds, no threat of rain . . . driving in a rental, as rob opted out on putting 2k + miles on his car with the off chance of it breaking down. nice ride, much more comfortable then the ride we would have been in, though of course we have more stuff now, a few extra guitars and such . . .

remembered a morning several months ago. was biking to work, going down sidestreets, moving west in the southeast, which means the houses get nicer every block. it was around seven thirty - sometimes i wake up earlier than normal and can't get back to sleep, and rather than toss and turn all night, i get up and go to work - and saw her walking barefoot down one of those streets that are unpaved and full of potholes, barefoot in a nightgown and walking, who know from where or to where. i can't seem to remember the look on her face, which means it might have been something that wasn't too memorable, though you would have expected the face would have told a story, but there was no story in her eyes.
reading a nice collection of stories from mcsweeney's, which makes for great touring reading. small snippets of absurd stories that help punctuate the miles of clouds and thick green forests of southern oregon. read a passage, ruminate on the thoughts of the impossibility of the reality of the trash compactor in the death star from the first star wars.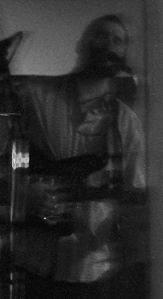 testface in eugene
house shows - nice playing them, as opposed to playing some random bar in some random town. much more personable, similar to a speakeasy in the sense that people there that come are all friends or friends of friends, and they come for that reason, as opposed to small clumps of people sprinkled at a bar. or worse, no one there at all, and you're playing to the sound guy and the first band, who are wishing the had loaded out their equipment and escape out the back during the middle of the song. some nights are like that.
stayed at dave from testface in eugene. nice, as last time we stayed there, he was working on his garage into a work studio, while i was working on mine. he did a nice job, installed a loft with a few futons that we slept in. nice workspace, great place to shut the door and lose track of time . . .
and the weird thing about writing, and damning thing is that you need to stop when the editing voice kicks in, even after you've turned off the spellcheck and are typing with your eyes closed to get the flow and rhythm of breathing into the words and damn they typos and dropped commas,etc, when you find yourself obsessing over getting the words typed correctly and backspacing ad deleting the past sentencewordparagaph, questioning the words and thoughts, that's when the thread is lost and you're falling. there's a time for writing, there's a time for editing, there's a time for recording, there's a time for editing and mixing. . . .
and there are stranger things, diving into the past. i have a box full of dozens of notebooks filled with ramblings and rantings and sketches and such over the past fifteen years, and i keep thinking after i get in the accident that leaves me to convalesce for six months, i will dive into this box, and start copying and scanning in the good parts and burn the rest. there's usually a couple of good lines or ideas per page, and the rest is garbage. then there's the words typed into the computer years ago, then backed up on another system, the usual just-in-case sort of thing. and this computer's got words from eight years ago and newer, filled with dusty memories . . .
there are the birds at night. this one outside, it tries out two or three patterns or jingles, then tries some different melody. and there are patterns he/she tries out, variations of the same pattern, not unlike a coltrane searching about in the key of a for the right sequence.
a bird flew by, making a sound like a pair of denim jeans running by overhead.
killing henry, and other practical matters
stealing home, and other practical matters
midnight in a minor key
and other thoughts, of passing time and obsessing over relationships, of wondering how lobotomies are performed, and remembering past roommates. there was one whom I wrote a song about, he was a firefighter, not the kind who would be at the station playing cards in the rec room in the middle of another 24 hour shift of waiting for something bad to happen, the a/c kicking on silently overhead, pushing the cold air into the room quietly from the corner. no, he was the kind that worked the forest fires, ridge runners, digging trenches, clearing the brush, trying to impede the advance. he had stories to tell of snafus of being caught in the path and of lying under blankets huddling, hearing the pass by him with a great crackling and blistering and heat, and of some not making it out. of passing out on cots on break, sweltering in the gear while the flames continued their assault upon the trees. as it works most everywhere, the more he worked, the more he got paid, and the overtime is what made it really lucrative, save for the minor job pitfalls. but anyhow, the song was about how he was saving up to bring his wife over from Japan, which is another song in itself. anyhow, he laughed about needing more work to bring her over sooner, and i thought it would make for a beautiful warped love song about this person who started forest fires all for love, along with all the disturbing thoughts not mentioned, kind of like a whitewashed disney-esque tale that in the end has the two in love together, but doesn't go into detail with the number of animal, plant, and humans that died, or the arrogance of love that makes killing all these alright for one's own desires.
other digressions: an experiment that I was going to try and perform to see if I could go a week without oral communication, to test out the theory whether a member in society could function without opening his or her mouth except for consumption. This written when I was unmarried and was lot more free to explore these thoughts.
"to remember you i drink and i've been thinking of you all night"
late aug 05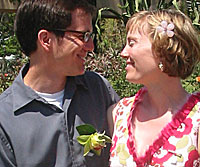 wedded . . . thanks to james moore of defunkt theatre here in Portland for the shout out in this month's edition of the Portland Monthly. Besides being one of the best playwrights on this side of the hemisphere, I googled James and found he's also a percussion instructor with the ohio state university marching band, founder and ceo of geopartners research, and a doctoral candidate in the learning and teaching area of the harvard graduate school of education, among other things. Crazy . . .
late june 05
what you've heard is true.
early june 05
have a few new rough sketches of ideas in the sounds section. let me know if there's anything worthy . . . probably need to get some of the pics i've been taking over the past half year too, have a bit of a backlog going on.
late may 05
been busy recording with beltline as well as my own thing. playing around with midi, for better and worse . . . weather finally warming up to a nice portland summer . . .
mid feb 05
spring is around the bend, and keeping busy planting, as well as finishing up a small studio in the back of our house; keep recording's compilation is now at, with some great tracks from beltline, dolorean, and charlie parr among others. pick it up at keep recordings website . . . just picked up the graves' new album finally as well as corrinna repps album, both available on hush records, and have been really liking the stuff. hopefully they'll be touring in your area soon; corrinna apparently is working on a new album, recording at type foundry with adam . . . starting to book solo shows for march and april, so check back for that . . . have posted up reviews of the past two albums. check them out on the keep site or go to the reviews page on this site.
eve before the election
the time has finally come to elect a president, hopefully.
other than that, the newest edition of comes with a smile (issue #16), as put out by the very nice folks at hinah records, should be hitting the newstands within the week, though it sounds like there was some gremlins at the print shop . . . this edition will be featuring an alternate track of mine from grand & failing as sung by the wonderful shelley short, formerly of portland, now of chicago, as well as tracks from giant sand, the decemberists, mark eitzel, and tara jane o' neil.
near halloween time, 2004
news of late: playing a few solo shows in october, november, and january; check the norfolk site for that sorta info . . . will be doing a quick n dirty oregon-nor-cal tour, playing with the illustrious beltline. Thursday, Nov. 4th - Eugene, OR @ Lucky's w/ Testface and The Woods, Friday, Nov. 5th - Redding, CA w/ Kelly Bauman , Saturday, Nov. 6th - Chico, CA @ Moxies w/ West By Swan . . . that's all for now.
somewhere in time
i have long been away from this writing, but am back, at least for tonite . . . many things to update; new release on keep recordings has been getting some great reviews, thanks to the hard work of jeff out in tucson for all his time and energy. i should be compiling a list of the review and posting it in the near future, as well as getting a few more shows lined up, which will be posted on the norfolk and western site for now . . . more thanks to chad over at hush records for putting the new album in his newsletter, and for putting out some damn fine records over the past few years, with more to come . . . a recent collaboration with a filmmaker, ted davee, has been made into a short film that will be shown over here in portland. ted created this great award film called crowfilm - try and find it if you can . . . for the piece, i collected a variety of noises screeches and such that he mixed into his piece, a film on pipes and tunnels, made from actual video footage of sewers that i believe the city of portland have done in the past. hopefully he'll make a performance piece out of it, and we can do a live sound installation piece to accompany his film . . . geez, what else? . . .
late-jan 04
the snow has melted almost, though there are still ugly rock-looking clumps of black snow piled up here and there. now it is trying to avoid falling on the loose gravel that is on the bike lanes everywhere . . . had second solo show ever, which went moderately well if i was cat power (hah!). a few technical mishaps kind of threw of the whole rhythm, but that's good in itself, otherwise i'd be a smooth operator, which i never will claim to be . . . some nice reviews of leftovers from a wake have come about thanks to jeff's handiwork. they can be found at delusions of adequacy and blue mag. thanks for the kinds words on that one . . .
jan 04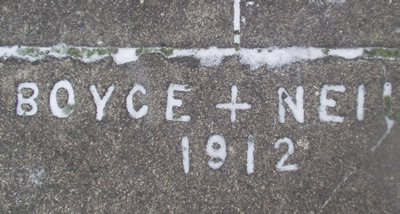 the snow has arrived here in portland, and the norfolk album is out on hush records! also, the kind jeff over in the the sunny tucson land has put out leftovers from a wake on his new label keep records, so please check out the new design package, as well as the other artists on his very nice site . . . and what else? a new homebrew collection of songs/'scapes is available, entitled grand & failing, which I can mail off to you after gluing up the home-packaging job here at grand & failing household. thanks to all for their comments and opinions on putting it together . . . maybe be doing a re-do of the willy wonka soundtrack with norfolk, after the new year's settles in, then hopefully start doing some shows for the newest album . . .
aug 03
norfolk album should be arriving any day now; release date is coming up through the mighty fine folk at hush records. . . . and yes it is true, there are tshirts available through them . . . norfolk to be playing the music northwest showcase in early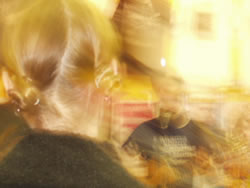 september with other film guerrero bands. adam and rachel will be out touring the east coast in september, then adam will be doing a solo tour out in europe for all of october while rachel tours the states with her other band, the decemberists. then norfolk will be touring the west coast in november. busy busy busy, eh? . . . i've got some solo things works that i've got recording at type foundry under adam's care; hope to have finished by november, when the band will be back in portland to cool their heels and hopefully start work on another album . . . other than that, trying to milk the last days of summer before i go into hibernation mode, and start writing and recording for the next eight to nine months, and see what comes of it . . .
may 03
norfolk album finished! adam has had it mastered, and advance copies are available at the norfolk website . . . I've been working with several non-profits in the Portland area, developing some print and web material for them, which has been great . . . west coast tour coming up in the end of June for norfolk and western playing with the mighty fine band, the decemberists. traveling from vancouver to los angeles and back . . .
april 03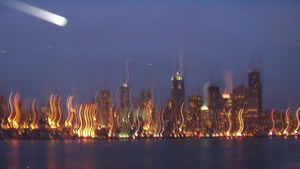 have returned from the norfolk west coast tour and recording shindig that lasted a little over a week. i think we traveled in the van for over 50 hours in that short time period. a wee bit exhausting, but managed to make it back, in one or two pieces, definitely in need of a little repair here and there . . . word from barcelona is that every night at ten the folks turn off all the power, open the windows and begin banging and hollering at our president's actions. wish there were more people like that here, rather than being sucked into the bs that cnn and the official line that is being spoonfed to people out here. one of many thoughts of the past few months: how many countries have we ever truly "liberated" to democracy? and how many countries have we given arms to or trained (and currently train, read about the Western Hemisphere Institute for Security Cooperation - sounds a bit like al qaeda here, only in an official classroom rather than the lo-fi desert that the other terrorists use) in the use of weapons/counter-insurgency/torture/murder/etc for "democracy"? . . . perhaps i should get off the soapbox, but seems like there needs to be some clanging inside our own country to fight the official bs line of saving democracy for the free world. we should stop the creation of dictators and terrorism here at home first.
march 03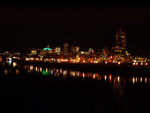 time is going by quickly . . . i am honored to be working on a collaborative piece with Luca, a flash designer out in Italy (who has got some great stuff on his site) for born magazine (mission statement from their homepage: "...an experimental venue marrying literary arts and interactive media. Original projects are brought to life every three months through creative collaboration between writers and artists."); i am the sound designer for the piece. hopefully i will have the url to post on that soon; i believe it should be the end of this month. . . . norfolk going on tour at the end of this month, and to record at Wavelab Studios out in Tucson. we'll have some hairy fifteen hour drives ahead of us, but should be good fun . . . donna and toots version one has just been launched, which is clothing design sweatshop here in portland oregon (owned by my girlfriend, aww shucks, draw shapes with toe in sand).
jan 03
happy new years . . . new site posted. hope you like . . . norfolk going on tour in feb up to seattle, and a west coaster in late march, if things work out . . .
oct 02
just got back from a brief nw tour with norfolk and western. played here in portland, oregon, then up in anacortes and seattle, washington, up to vancouver bc, then back to olympia. met some very nice people who gave us space to sleep, namely the Department of Safety in Anacortes (check out their website, see some shows, sleep at their hostel), Stef's house in Seattle, and Adam n Jason over the border for lending their floors.

norfolk and western also has their site launched as of now. more content coming in daily. big news has been that we've been invited on the Sparklehorse european tour in november. 4 out of 5 can go on the bus, so i've elected to stay home, man the posts, and save a bit more money.

i still plan on putting up mp3s really really soon, but have been bogged down working too much and preparing for the euro tour, but should have some free time in november to put things up, now that there is a whole lotta web space available for posting.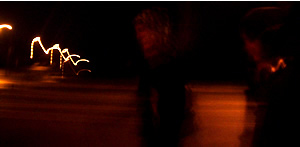 aug o2
finishing up a few projects this month and september, then will turn my attention back to updating this site with the past half year of projects and such . . . norfolk and western will be playing a few shows in early october in portland, seattle, and hopefully olympia and vancouver, bc . . .
apr 02
norfolk and western have returned from the brief tour with johnathan richman up in the northwest. we had a good time playing up here at the aladdin, showbox in seattle, and in olympia. found another old jc higgins bike in seattle that i couldn't turn down.

norfolk and western have been selected to perform at the first annual meeting of tape op, the recording magazine that should be by your bedside, if it's not already. the show will be in sacramento in may, playing with several great bands, including calexico.
mar 02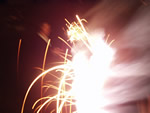 i have returned from the mward/gorky's zygotic mynci tour in one piece, more or less. drove 2800 miles or so in less than a week, from los angeles california to vancouver bc . . . sf music hall is probably the nicest place in america i have played in. great staff, sound, food, everything . . . nice to be home, though it feels like the road is still moving underneath my feet.
also, the official norfolk and western cd release was on march 8 at the blackbird here in portland oregon. if you are looking to get one, they should be available at all music stores here in portland, or you can contact john at filmguerrero
recently had a show on march 9th with mward and jordan, opening up for theplanetthe and the jicks, stephen malkamus' band, here in portland at the crystal ballroom. quite nice show.
bert is still around, though with a few more gray whiskers on his chinny chin chin.
i've got the pictures posted from the 2001 ward euro trip, along with past pics and other assorted stuff. view them here.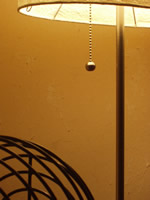 a collection of past writings from lyrics and whathaveyous. I have a rather large box filled of notebooks written in my 20's that I have yet to review and edit; hopefully I may do that, and post these here.
unreleased
a holiday
i'm going for a holiday
don't know when i'll be coming home
i'll be gone for a little while
be sure to close those shutters when it's cold
i'm going for a holiday
when the snow comes i should be home
i'll be coming home
some day i will come home
had me a whiskey summer
wishing I was somewhere closer to you
than my worn pictures/memories
and now the fall leaves've been whispering to themselves
their plans to all rush to the ground/give in to gravity
and soon the rain
will stop falling
giving way to the snow
they all must say goodbye
must say goodbye
because they will always
leave you wanting more
leave you wanting more
suppose that's life and that;s good
leaves you always
wanting more
from grand & failing
longest day
the longest day is over
and all the cubans have found their way home
the longest day is over
and december will always be weighing on your mind

all your friends are over
and they have taken all your drinks
and are laughing at you again

and you're hoping for a breakdown
to get you out of this tin shed
and start walking this land with your thumb

and too often memory gathers its shards and stands waiting outside a greyhound bus stop in wichita
and the faces that you pass by
they stay with you
through the next twenty miles
and when you died did you feel
your body getting lighter
as you hovered above that operating table
could you feel a smile on your face
and did you see my grandfather
is he still drawing history even now
the longest day is over
and if i could be my own country
if i could be my own country
then this will do for now
grand & failing (not quite right)
thought i heard your voice this morning
long after you had left and gone
you were was calling for our little one to come home
from where he had gone
thought maybe you had turned
into a ghost on me once again

thought there was something not quite right yesterday
when i saw a man kicking another when he was done
a group of others stood and watched the fray
and more than a few added to the blows
above our door the birds kept up with their flirting
while half a block away the blood began to flow
thought of things as i sat and watched
and like the tide the crowd finally ebbed away
and i thought that day was a beautiful one
it was when your son was born that day
catalog
(your) promises are like leaves in the fall
by winter they're gone
red rimmed eyes
smoke-filled lies
like the barnyard sparrow
how you know (when) to fly south
for the winter
and i've kept a catalogue of all your dirty little thoughts
of how many lies
you've tried to smile away
of how many other's recycled thoughts
you've tried to pass away as your own
everyone has a cancer burning inside of them
your lies are like a cancer
burning you inside
one needs to stay for a winter
for the rain to wash them away
on my mind
and the day i went blind
i could still see your smile
the teeth that shone like
stars in the night

and you still carry that
moonlight smile
that melts my inside every time

tell them they're high, that they're on my mind (2x)

it was late
summer time
and the sun had turned the roses
the color of dust
the color of dust
last night i had fireworks
light off in my head/mind,
and they flared and sparkled and burned
until there was nothing left inside
driving by moonlight
driving by moonlight,
reaching past 70 to cut a few minutes short,
pinch the arm am i still awake
the night holds the light tightly in its grasp
not letting a sliver sliver out cold so what, rains so much
the fireplace will warm at least with the
light
light

dust so high
feels like walking through thigh-high sand
three legged couch makes for a
poor shoulder to sleep on
and there's holes in the floors
can't walk around after dark
throw the curtains into the fire
pull another book down in front of the light
watch the words dance about the pages
and thinking about painting the ceiling a new shade of
white
white

sold it all, kept on driving
pulling away from nothing
sheets for curtains
you can feel the air breathing
between the glass and the skin thin cotton
and the walls they have been breathing
and the books they have talking
to themselves at night

from leftovers from a wake
leftovers from a wake
with the moon
weighing heavily on your shoulders
you'll keep walking on til your shadow
disappears
cold
cold is it
cold it was
and you will breathe in, breathe in the rain
lonely as god
and white as a winter moon
as we find ourselves
amongst leftovers from a wake
and there will be time
for traveling on for more
sunset miles and miles and you
you're lonely all the time
lovely all the time
ever since he left your side and tonite
your sins are opened wide
and there's nothing
for the rain to wash away and when
when you grow up
you find the moon
the moon is full of lies and roses
roses can leave
saccharine scars
and how long can you wait
for this water to turn (to wine)
(note: "lonely as god, and white as a winter moon" taken from a mt shasta description by poet joaquin miller, natl geographic oct 2001)
blood meridian
i have come from a hell
seeking water for these lips
i have walked across deserts
with scalded souls
i have followed a judge
who had made gunpowder from coal and piss

i have come for the gold
promised of every scalp
i have liberated
unjustly from its head
and one asks how far a man can travel
without water or blood on his hands
and lord i have wandered
i have wandered
but never alone

and the judge he says
drink up
drink up
for this night
thy soul
may be required
required of thee
from the picturetime collection
picturetime sweetheart
got a wartime lover at the turn of a century
but never can i hold her closer
than the lipstick she leaves on each letter she writes
she lives so many miles away
she's a beautiful as first snow
and the air about her
always smells like red wine
and she never leaves you like a bottle at closing time
forgetting her is as easy as losing your shadow
got a picturetime sweetheart
whose letters I leave unopened
for fear of finding these words:dear tom I still love you
always have and ever will
but my dear the miles between are too far
so the time must come
to write these words to say to you
and I hope not to bring you down
but every good love
every pure love
every good love must come
to an end
so I turn off the lights
and close my eyes
and I can still see her pictured in the walls of my mind and I'm a stray dog who keeps
coming back
to the memories of when I held her last
it was a picture perfect postcard
of a paris in the rain
and oh how it's taped up in the walls of my mind
so if you ever find a place dear
where the suns sleeps in summer
where love won't wither on the vine
be sure to send a postcard
I'll be sure to tape it
To the wallls of my room
It'll still be there waiting
for your return
would if i could i would
would if i could i would
call you friend or lover
and to this world I add
that i wish you were here
tonight on this ocean of roads
and that we were drifting
lying on our backs watching the sky move overhead
with the moon nuzzling up to the clouds,
because sometimes my dear
the night gets so beautifully
lovely
lonely
yellow line
thought of you as I crossed that yellow line
trying to find a river to bury this car
now I find myself driving past widow's houses
thru an aging land divorced from still waters
and I caught myself, I caught myself falling again
and I found myself, I found myself dreaming again

sold it all kept on driving
looking for a place where the snow meets the sand
a place where the bridges have melted in the heat
but nothing, kept on driving

driving thru places where the pictures are bolted to the walls
and the walls they have been breathing
and the books they have been reading themselves to sleep at night
places where gideon's and cable can always be found

met a stranger took a gamble and lost everything
now I find myself building stone walls for nothing
and waiting and wondering
if you're still counting stars until I come home

and I caught myself
I caught myself falling again
and I found myself
I found myself dreaming again
and I found myself
I found myself high again
and I caught myself
I caught myself crossing that yellow line once again
more fingers than teeth
welcome my son
to this land of four seasons
of present tense here and now
there's such a rush to get outdoors
for the sun hasn't gone yet south to sleep
it's been so long since I heard your smile on the phone
i've been swimming near the bottom for too long
waiting for the hunters to leave
waiting for the leaves to turn to rust
then lord will I give in to settling down
of planting seeds and waiting for the trees to rise
that'll be the time when cars stop breathing
a time when i'll have more fingers than teeth
leaving las vegas/waiting for the water
and i'll be leaving in the morning from las vegas
in a pine box that's built for two

and lord it's been a long one full of moonlight smiles
and warm summer hands but lately i've only been feeling
ocean water with its rise
and eventual fall
and lord have i been drinking
just to stop the thinking
and lord have i been drinking
just to stop the thinking
of the lovely one
that you've taken, taken from me
and lord this easy life's not so easy
when you're living it with nothing to fill
the emptiness inside
and lord it's a long one to wait
for the water to turn back to wine
and sometimes water so sweet
and sometimes water so bittersweet

and lord have i been drinking
this water from the wine
and lord have i come to believe that when you took her
you left a part of her in me
that's kicking and screaming to be let out
that's slowly dying inside of me
and lord have i been drinking
just to stop the thinking
and lord have i been drinking
yes i have been drinking
and lord have i been sinking
have i been sinking
the marathon runner
i can fly but i have a fear of coming down
at 25 i learned to craw
in two years i'll be running away from here
and last night i ran a marathon
and i waited for the stars to burn themselves out
because the stars, they blind more than the sun

bromaldehyde
bromaldehyde

and somedays the nights are too long to wait
for the mornings to come
and somedays i'd swear the mornings
have disappeared
and last night i ran a marathon
with my feet nailed firmly to the floor
and i won't stop running
til the morning if it ever comes

bromaldehyde
bromaldehyde

mind spinning
filled with thoughts of what i can't do with you
and tonight i'll hold this candle til i burn
and i wonder if i can make it through the last call
without a not so nervous breakdown
because i can fly but i have a fear of coming down
i can fly but i have a fear of coming down
in the eye
thought by now
I would have
forgotten your smile
spent a year last week
trying to forget
wasn't sure
if I was supposed
to drink what was given to me,
smells like
something
you put on your skin after you cut it
the moon has come
and gone
the birds
are starting to look for the worms
and you're as
beautiful
as first snow
from other collections
turning right, motioning left (broken turn signal)
been driving like i'm in a movie
never really see what's going round
can't remember the last time that my feet
have touched the ground

been driving like i'm i a movie
where nothing works on the dashboard
because it's all made of cardboard
and there's no back seat but a backlot
and wherever i go it feels like someone's watching me
and wherever we go and whatever we do
the water's still coming in at my feet.

but nothing ever felt so real
as this driving
nothing ever felt so real
salsipuedes
been driving for days
must've fallen asleep at the wheel
woke up in a town called salsipuedes

the air here tastes just like whiskey
and i stand here waiting for my memory to return
then i'll drop my glass and split in two

at the cock's crow it was 106 degrees
in the shade of my shadow
my car was a black oven on wheels
so i got out and walked the street
past gardens of steel rust
and fences with barbed fangs
couldn't find my reflection much less a stray thought
to call my own

this town's more like a prison where everyone wants to get out
the houses stand here til the last nail rusts then they all fall in a silent heap of termites and dried blood
you can smell the poison in the air

out here even the devil shovels his own coal
and out here you take those wings off your shoulders
out here you take those wings off your shoulders
hole in the head
and these words that come to your hands
they come from a hole
that hole is in my head

my head it feels so heavy
it feels like falling to the ground
and the ground is very damp
so very very damp
from this hole in my head

and more words come to your hands
more words that you can hold
these words you put in a box
a box that lies by your bed
a box that overflows
with these words from my head

and these words might make you sigh
and these words might make you cry
and these words might make you laugh
and these words might make you go to a 3-story window
overlooking the sky
the sheltering sky overhead
kingsbury
black painted on white, falling to the green
another roll with another's life
kingsbury pale, where have you gone
where have you taken my life

with my head full of plaster and lungs made of smoke and clothes filled with soot and ashes
let the first blow fall softly on the nail

just let me down easy
let me down slow

i can dance upon the tip of a needle without breaking skin
i should've been a mountain not a leaf
to be blown about carelessly
sullen october eyes
tennessee's not the place to be when you're sitting on a park bench and writing a letter to keep yourself company

you say you find it's easier
to let the liquid down before the words come stumbling out
if at all

sullen october eyes
closing towards the winter
sullen october eyes
have done their best

waking to a new face in the mirror every morning
what i want to know is have you found yourself
and you wonder if people remember you wrapped in cracked leather and laugh, lala la la

sullen october eyes closing towards the winter
sullen october eyes have done their best
north, smoking
and isn't it funny how you wish for more fires to burn
with the thought that the burning
will bring you closer to her

a thousand acres of flame
that wave but do not drown
as they reach for the sky
and bring
everything down

thought i'd start on my way
north smoking
light a match every hundred miles
thought i'd start on my way
north smoking
light a match for a friend
but i lost faith in fires